Looking beyond the headlines of Korea's booming scripted biz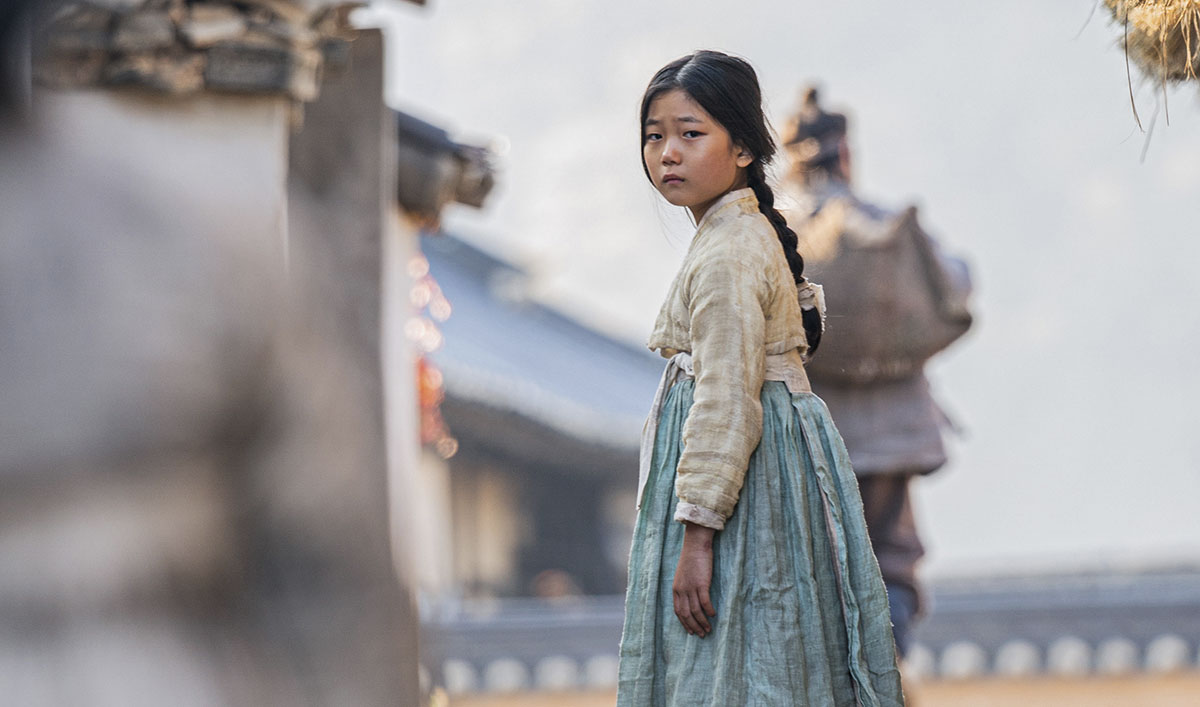 Everybody knows about Squid Game, but how much do you know about the TV industry that created it? Nick Edwards takes a deep dive into South Korea's production industry and finds out what makes it tick
By the far the 'buzziest' show of 2021 was Netflix's comic-book like dystopian thriller Squid Game. Following in the footsteps of the surprise Oscar-winning film Parasite, and formats, such as The Masked Singer, the show confirmed beyond doubt South Korea's status as a potent hotbed of creativity.
"The Korean market is like a hot furnace now," says Ki-hyuk Lee, chief strategy officer of Ghost Doctor and Twenty-Five Twenty-One producer Studio Dragon. Underlining the point, Netflix invested around $500m in Korean content last year, while local media giant CJ ENM is to spend $4.4bn over the next five years and streamer Wavve (known for SF8 and Mtopia) said it would be spending $884m by 2025.
Dreams of making it big are inspiring young actors, directors and writers from all over Asia to descend on South Korea as they do to LA in America. "Traditional media operators, new operators and creative people are being drawn in from Korea and other countries," says Ki-hyuk Lee.
Korea's export legacy
Beneath the flashy headlines, however, Korea's scripted industry is a far more nuanced space. Shows such as Squid Game and its follow up, Hellbound, are the exception rather than the rule. Most are family, rom-com and specifically 'relationship-based' dramas. The majority of traditional Korean TV drama is directly comparable to the standard primetime fare offered on all free-to-air and linear channels in Europe and around the world.
This traditional style of Korean TV drama has been sold to other parts of Asia, Latin America and the Middle-East for years. Squid Game, meanwhile, was famously rejected multiple times before Netflix agreed to make it. Even in countries such as the UK, where the show was one of the most talked about of 2021, the various conflicting methods of gathering viewing figure metrics make it hard to establish whether or not it was more or less popular than the classic primetime shows on traditional outlets (such as the BBC or ITV).
What is clear is that millennial audiences, particularly in Europe and North America, and the global streamers who cater to them, want the next high-end genre-breaking K-drama. The kind of content that sits perfectly alongside Netflix's other hits, such as Stranger Things (US), Sex Education (UK) and Dark (Germany).
"What we're seeing with Korean drama is what we've already seen from other international markets," says Ken Kim, CEO of Webtoon US, whose digital comics include Hellbound and All Of Us Are Dead, which have both been adapted as series for Netflix.
"There are a number of reasons for this shift, but great storytelling is the key; new technology and distribution wouldn't matter if people weren't captivated by the content. The most important connecting thread between Squid Game and Parasite isn't that they're both Korean: it's that they're both incredible stories."
Complexity & nuance
The reasons why traditional and the new wave of K-dramas are enjoyed by global audiences – despite the presence of unfamiliar actors and cultures – are the same.
"People like Korean drama because there's always a character the audience can confide in and it's not necessarily the main character," says Deborah Youn, head of business in Asia for CJ ENM-owned Eccho Rights, which distributes titles such as Mouse and Hometown.
"The most important connecting thread between Squid Game and Parasite isn't that they're both Korean: it's that they're both incredible stories" Ken Kim, Webtoon
Sol Lee of international distributor KT Alpha – which houses Mission Possible and The Man From Nowhere, among others – agrees. "Most Korean series have a unique point of view which is not only focused on a hero or heroine," she says. In Squid Game, there are many different characters, and audiences around the world like and identify with different ones.
Another key feature of K-drama is that while "there's always a good character and an evil character," continues Youn, "the evil character always has a backstory that explains how they became evil." This resonates with the world view for many. "People in general see the good in people and that it's their social circumstances that make them this way," she says.
"In general, South Korean drama is more complex, the characters are more complex and they have more complex relationships. The pace is really fast and shows often feature more complex storytelling devices such as time lapses," says Nicola Söderlund, managing partner at Eccho Rights, acquired by CJ ENM in 2018.
"You can't watch it while doing the dishes. If you miss two minutes of dialogue in K-drama you won't know what's going on," adds Youn. The sophisticated writing can, in some ways, create a barrier to adapting K-drama abroad however.
"It's sometimes a challenge for European writers to adapt, but when succeeding it could also be very rewarding," says Söderlund.
Pachinko's potential
While Korean drama is booming, the chance to work directly with English-speaking countries on co-productions remains limited. "Co-production is not really that active right now but the opportunities are still open," says Lee. Additionally, a Korean drama won't be of interest to a local broadcaster unless "99% of it is in the Korean language," says Youn. "Only the global streamers would consider [anything different]." The success of Apple TV+'s upcoming Pachinko – based on a British novel with a narrative that switches between Korean, Japanese and English – therefore could be pivotal in changing the current status quo.
There are other challenges on taking Korean dramas global, too. The standard run of a K-drama on TV is long in comparison to most English-language series, with around 16 episodes. Fitting such a format into standardised schedules is another barrier to selling K-drama abroad.
Much more problematic, however, is the fact that Korean stories are self-contained. Story, character arcs, everything, all finish at the end of the first season – the exact opposite to the returning series model that has been consumed by much of the rest of the globe for over two decades. There are a few exceptions, such as Studio Dragon's crime thriller Voice, now in its fourth season, but these are rare.
Attempting to break this tradition is economically very difficult. Almost a decade ago, it became legal for private companies to own pay-TV channels. In those days, in common with much of the rest of the world, actors didn't want to be in a TV series because they were looked down upon in comparison to cinema.
The result was that private companies hugely increased actors' fees. The shows became successful, not only in Korea but in other countries too – but those high wages set a precedent. Today, A-List actors are booked up 2-3 years in advance, so to make a returning series, a producer would likely have to break actors' contracts, something that would blow the budget of almost all shows.
Squid Game, which was also originally written as one season, has been commissioned for a second season – Netflix's deep pockets may explain the rare exception to this rule.
Writing & rates
Like successful actors, top tier writers are also paid very well, closer to US showrunners than standard European rates, and most will write a new show every couple of years. A common practice, after receiving 30-40% of the advance, is to go on holiday for a few months to get inspired, before returning to write the project.
"Writers have a much more powerful position than in Europe," says Söderlund. "If they don't like a project, they just don't do it. When you want to option a series, they can just say 'no'."
The few writers who are considered 'top tier' are treated like kings, or rather queens. "The majority are female," says Youn. "Many formerly had conventional lives and just turned out to be very talented writers. Good writers are really hard to find and most stumbled on it by chance."
The most common way to enter the industry is to submit a short script into one of the regularly held screenwriting contests held by local broadcasters. These organisations have training programs whereby newbie writers are paired up with established talents.
Baek Mi-kyung, the writer of two hugely successful shows for cable channel JTBC – whose studio division acquired Mare Of Easttown prodco Wiip from Creative Artists Agency last year – was formerly an English teacher who got her big break in her 40s. Strong Girl Bong-soon and Lady In Dignity, meanwhile, were hits at home and both now also reside on Netflix.
For young writers, one way in is to start as an assistant for top writers, but the most common advice given to them is "fall in love and get a day job," says Youn. This is not as flippant as it might sound because Korean TV drama has such a strong emphasis on relationships and relatable experiences. "Most writers don't make it until later in life, if you're too young you won't get hired," says Youn.
Investment & risk
Content strategies throughout Korea's media industry are now designed to attract local and global viewers alike. Last year, CJ ENM snapped up Endeavor Content (Normal People, Killing Eve, Severance) having already invested in Skydance Media, DreamWorks and The Ink Factory.
Cable operator JTBC, as discussed, bought a majority stake in The White House Plumbers and Dickinson firm Wiip, while internet giant Naver – owners of Webtoon – acquired Wattpad, the self-publishing site from which one of Netflix's biggest hits, The Kissing Booth, was sourced.
"You can't watch K-drama while doing the dishes – if you miss two minutes of dialogue, you won't know what's going on"
Deborah Youn, Eccho Rights
The gaze of global audiences has upped the stakes of K-drama in unexpected ways too. Ancillary income sources can be tapped from platforms, such as YouTube, and other social media. The star of Netflix's upcoming The Sound Of Magic (based on Webtoon's Annarasumanara), Ji Chang-wook, has 19 million Instagram followers. Product placement is huge. For Korean viewers spotting how brands insert themselves into K-drama is a pastime in itself. High-end fashion brands such as Tiffany and Cartier give exclusive pieces for popular actors to wear.
However, despite the rise in the prestige of Korean TV drama on the global stage, there has been a downside for the independent producers that initially turned the industry into such a success.
Because of the explosion in the cost of talent and production values, which have also sky-rocketed, a lot of independent production companies are now not making as much money as they used to. Writer and actor salaries can often take up to more than half of the budget. "Ten to 15 years ago, a margin of $1m of pure profit was not uncommon for a hit show. Nowadays, a hit show does not even guarantee you will break even," says Youn.
Increasingly, the Korean TV industry is becoming akin to the Hollywood model, whereby a studio might produce nine movies that don't make their money back but the 10th is a huge hit that more than recoups the losses on the others.
Many independent producers, meanwhile, are bought up by large media organisations as a way to avoid bankruptcy. Recent entrants such as big spending Netflix can alleviate their debts and are keeping the wheels of the industry turning. "There is risk," says Ki-hyuk Lee of Studio Dragon, but "this is a good time even for failure as the market is rapidly expanding.
"The efforts we put in to overcome [our] small market have resulted in the current global popularity of Korean dramas. I hope this mind-blowing investment will produce unexpected, great results likewise."
---
Amanda Groom, MD of The Bridge
The Bridge's Amanda Groom has been working with Korea and across Asia for more than a decade. Here, she offers her advice to those wanting to build ties with the country's TV industry.
"Korea set out determinedly to secure its place on the world stage. When I first approached international broadcasters about working with Korea it was hard to secure a meeting. It's not now! The country has its own unique voice and its original programming is punching through with extraordinary success. I would predict that we will continue to devour these unique, creative styles of programming from Korea in addition to increasing the ways in which we co-produce with the country's leading creatives.
"There are numerous ways for international firms to partner with Korean production companies, broadcasters and streamers. However, working with Asia requires building long term relationships. Relationships are the key to all negotiations and partnerships and it can be challenging for smaller indies to dedicate the time necessary to building those relationships over the long term. That's why I formed The Bridge, providing a short cut for broadcasters and producers enabling them to access many of the advantages of Asia without investing the time themselves.
"Developing drama with Asia enables international producers to bring innovative new stories to English-speaking markets, stories that shine new light on history between what was previously two worlds of east and west. The Bridge is currently co-developing two scripted dramas – fascinating human stories set within significant history touch points, revealing much about our world today. If you don't know Asian history, it's almost impossible to understand our world today and yet few of us do! We hope to change that."