The Story Behind a Successful Korean Co-Pro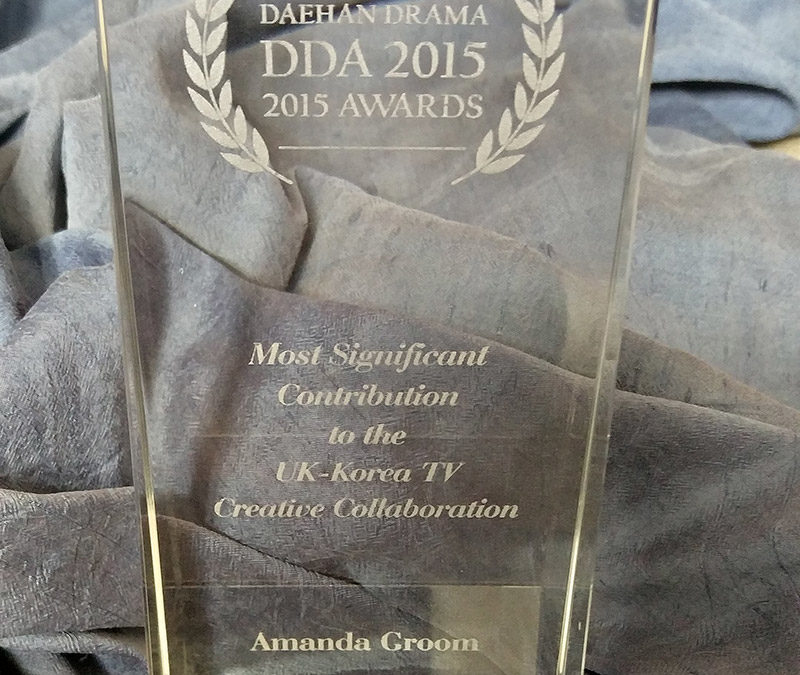 Original source: Broadcast Now
Original date: 29 April, 2016
The Bridge founder Amanda Groom this week won an award for the Most Significant Contribution to the UK-Korea TV Creative Collaboration at an event organised by the London Korean Drama Club.
Here she reveals the story behind RTS Award-nominated S4C film Tears of Blood, which was co-produced by a Korean indie.
Tears of Blood was a feature length documentary that contrasts and compares the experiences of two men whose lives were dramatically affected by the Korean War.
Meirion Evans, from Brynaman in the South Wales Valleys, fought on the British side in the Korean War, while Mr Young-Bok Yoo was a school boy when North Korean forces invaded South Korea in 1950.
It's an incredible story of bravery and the film reveals the effects of the 'Forgotten War'. Now old men, both Meirion and Mr.Yoo remain, in their different ways, prisoners of the world's first 'proxy war'.
Gwion Owain at Awen Media was the first Welsh producer to fully understand the potential benefits of working with South Korea. The tight budgets for Welsh language programming, the addition of a Korean partner and the subsequent investment from Korea all meant that the production team could expand their ambitions to include location shooting in Korea. The result is this thoughtful and beautiful work.
Gwion first approached me late in 2012 and I was completely unaware of Meirion Evans, or of the role of Welsh soldiers in the Korean War. Indeed, there is much that we in the UK are unaware of regarding the Korean War, which explains why it has been given the name: the Forgotten War'. Knowing how the memories of the Korean War's devastating effects remain vivid in the minds of Korean people today, I approached Korean production company JTV, which is known for its high standard of documentary work.
What followed was a fairly arduous and bureaucratic system application system inside Korea to secure Korean Government agency funding for the production. This was largely handled by JTV, and required significant leaps of faith from Gwion and his team. After months of push and pull negotiations, lengthy contractual negotiations conducted largely via email, with a complex matrix of budgets, shooting and post schedules and location filming schedules being translated into Korean, plus negotiations being conducted in multiple languages (I have yet to find a Korean and Welsh speaking translator!), we submitted our proposals to the Korean Government agency, the KCA.
The learning curve was steep on all sides. There are notable differences between Korean and UK filming styles, particularly in story telling techniques. Audience expectations differ between Korea and the UK, and of course there are notable cultural variations between the two nations that need to be addressed, both on and off screen.
The Korean producers had to convince the KCA that the project was deserving of their funding, and could be shot, edited and be on air within their tight deadlines. After weeks' of deliberations in Korea, the KCA announced its decision to roughly match fund the project in a series of funding stages, development, commencement of principle photography and editing. During those tense months it took a great deal of determination and passion to make this programme a reality. Despite the challenges the experience was hugely positive.
By bringing Wales' Awen Media together with Korea's JTV's collectively we created a system that has subsequently led the way for numerous other British production companies to enjoy the benefits of co-production with Korea. A process that I am glad to say has become easier with time and experience, and as a result of our early efforts.
Amanda Groom is managing director of The Bridge