East Meets West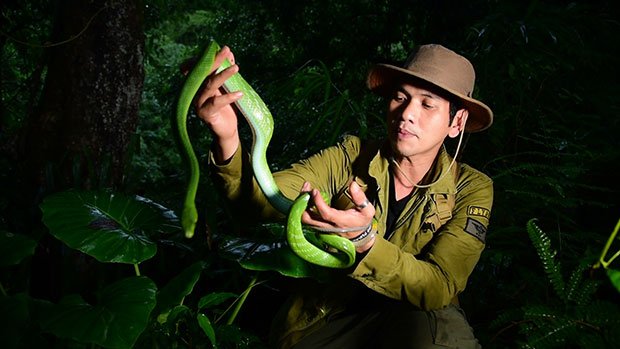 Burapha's The Snake Master is being adapted by London-based TVF
Nattanan Kulrapeekorn of Bangkok-based producer TV Burabha talks to Clive Whittingham about Thailand's burgeoning factual TV scene in the wake of Hope Frozen's success and outlines her company's ambitions in the West.
In unscripted television circles, much has been said and written about South Korean formats, the highly ambitious factual and frequently rule-breaking format business in China, and the increased international outlook of Japan.
But elsewhere in Asia, in countries like Thailand and Vietnam, there is a burgeoning unscripted sector ready to boom and be a source of IP for broadcasters around the world.
Founded 20 years ago, Bangkok-based TV Burapha is known for its Asian Food Channel series Tasty Journey. The show is hosted by Burapha's international content director, Nattanan Kulrapeekorn, who attended the recent Sheffield Doc/Fest to further the company's ambitions outside of Thailand, signing a deal with Bristol-based indie Icon Films to adapt its Wild Thailand natural history series as a 2×60' doc for English-language audiences.
Nattanan Kulrapeekorn
"We are in discussions with many European production companies, particularly in the UK, about doing coproductions," Kulrapeekorn said. "Our aim has always been to find a partner to help us bring Asian stories, not just Thai stories, to the rest of the world. The best way of doing that is to find a Western voice and somebody who understands the market to help us bring the stories out of Thailand."
The deal is one of several in the pipeline with European prodcos. London-based TVF, for example, is already adapting Burapha's Steve Irwin-style character-driven nature show The Snake Master.
Introductions and negotiations are overseen by Amanda Groom, MD of consultancy The Bridge, which specialises in the Asian market. "The deal with Icon is a rewrite and reshape," Groom says. "The ones we have coming up in development will literally be a coproduction, the first stage of a new market going elsewhere is, 'Here's what we've got – you remake it.' The next stage is, 'We'll make it together,' and that's what we're trying to do."
There are challenges, however, such as differing technical specifications. Then there's Thai broadcasters' preference for factual series comprising 13 episodes – a number Icon will have to reduce down to two for its version of Wild Thailand. "That is a huge difference coming from Thailand into Europe, and one of the challenges when we consider a coproduction to air on both sides of the world will be finding the middle ground," says Kulrapeekorn, "because if I just do five episodes, nobody will take it in Thailand. It's important to have a partner that understands and is willing to explore the new territory wisely."
Award-winning Thai documentary Hope Frozen
Thailand is particularly front and centre of industry minds right now following the success of Hope Frozen, from director Pailin Wedel. Claiming Best International Feature at the most recent Hot Docs festival in Canada, the film focuses on a Thai family struggling to find closure after cryogenically freezing their deceased two-year-old daughter while her teenage brother seeks a scientific solution to reviving her.
Wedel is a member of the Thai Documentary Filmmaker Trade Association, founded two years ago by a group of companies, including Burabha, that produce factual content. The idea sprang from Asian Side of the Doc, which was held in Bangkok in 2016 and 2018 and helped spark the industry.
"I'm so thankful to Yves Jeanneau for bringing Asian Side of the Doc to Bangkok. It opened many doors for us and gave us the idea to start the association," Kulrapeekorn says.
The government's ministries of culture and commerce and the department of international trade promotion have since started paying for delegations to attend global TV markets, including sending a group to Sheffield Doc/Fest in June. Back home, broadcasters other than factual mainstay Thai PBS are now starting to pick up docs as well, and local regulations mean somewhere just shy of three-quarters of all content aired has to be locally produced. "It's something that's been quite niche in the Thai market, but we're becoming stronger," adds Kulrapeekorn.
It's tempting to put markets like Thailand in the box marked 'natural history' and assume that only its wildlife content – which can offer great local access to exotic habitats and is easily reversioned with a different voiceover –will be of interest. But Burabha, a company of 170 staff, is also looking to spread its factual entertainment formats and grittier factual content from the streets of Bangkok internationally.
"The world needs to hear more from Asia," Kulrapeekorn says. "You hear so much from China, Korea and Japan. There's no reason why Thai stories and Far Eastern stories can't come to the rest of the world. For decades we have received Western stories on our side. It's one world when it comes to storytelling in non-fiction."