UK, Thailand Cook Up Copro Pact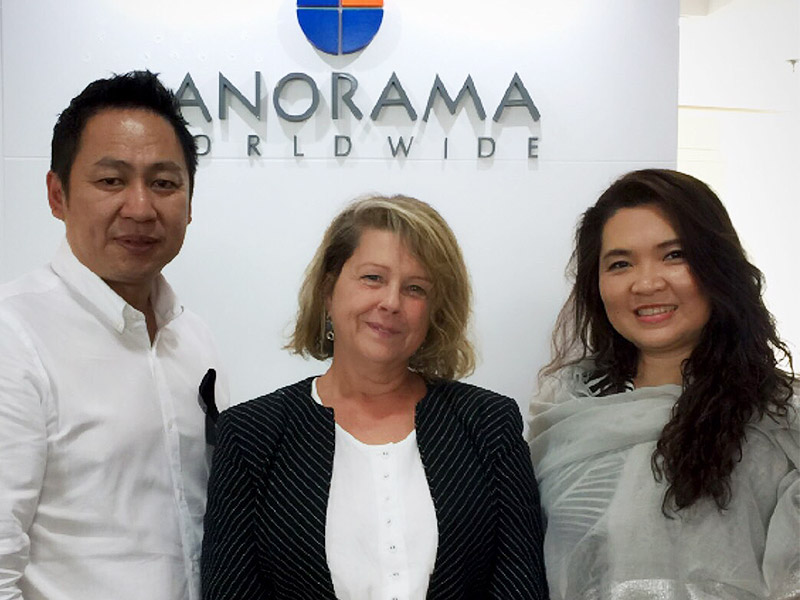 Soonthorn Areerak, COO MCOT (left), Amanda Groom, MD The Bridge (centre), Morrakot Na Chiangmai, CEO Panorama International (right).
The Bridge is in development on a new co-production TV series working with Blink Films UK and UKTV, and Thailand's Panorama International and public service broadcast network, MCOT.
Original Source: C21 Media
Original date: Friday 5th Nov 2016
By: C21 Media, Gün Akyuz ©C21Media
A new food show, A Taste of Thailand (working title, 10×60'), will take viewers on a journey through the country's cuisine and culture and will be coproduced by state broadcaster MCOT and UKTV.
MCOT-owned prodco Panorama Worldwide will start production on the show in January with an as-yet unnamed UK production partner. The hosted show, involving Thai and British on-screen talent, is due to launch in the third quarter of 2017.
"This is the first real coproduction series between Thailand and the UK," said MCOT's exec VP and chief operating officer Soonthorn Areerak. "MCOT is working in partnership with The Bridge to bring the best of Thai food and programming to a global audience."
Amanda Groom, CEO of The Bridge, who originally pitched the show and brokered the deal, will executive produce the new show. She said the deal represented "a new model programming deal for Thailand and the UK. The series will deliver a unique insight into Thai cuisine and culture for global audiences."
The show has also attracted interest from as-yet undisclosed parties in Australia and the US, Groom told C21.
The coproduction will also be one of the first projects to apply for the new Thai government funding initiative, available from January, said Groom. She is looking for sponsorship deals for the show, which all partners aim to establish as a long-running returnable brand.
Thailand is now pursuing South Korea's model of government-backed 'soft power,' which has successfully promoted the country's cultural traditions and people to the world.
"Ten years of South Korea's deliberate soft power strategy has been a big success," said Groom. "It's the reason why its cultural exports, like K-Pop and its TV shows, are on the map. Malaysia is looking to do the same thing and now so is Thailand."